Who We Are
Our Story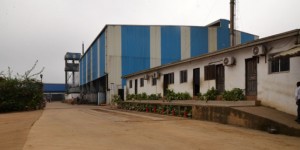 KING IVOIRE SARL is a market-leading Ivory Coast-based company which specializes in manufacturing and selling Steel Re-Bars. The materials used by KING IVOIRE include recovered scrap iron, metallurgical residues and derivative concentrates.
We were founded in 2009 and began operations in 2011. Our dynamic team, composed of experts with over 25 years of professional experience, has expanded our business extensively in Ivory Coast with supplying to several neighboring countries in Africa.
Our Expertise
We implement a sustainable strategy by using recyclable scrap steel as raw material for the steel products that we manufacture.
The materials are processed using our collection of extremely high-tech machines from India, collaborated with European Technology which allows us to manufacture high-quality products which we regularly test in our laboratories.
We manufacture construction materials such as TMT steel reinforcement bars – Round and Square as well as Steel Billets. For the TMT Steel Re-bars, we only use the best method, hot rolling, to ensure that the Bars have the highest level of Tensile Strength possible.
Our Success
The results of our hard work have been excellent: our customers have expressed their immense satisfaction and our company has achieved first place in all of the country for manufacturer ranking in the MS Billets and Iron Rods categories.
After the huge success of our steel manufacturing business, we expanded by launching an oxygen plant for industrial gas-cutting. We provide oxygen to our partners in Abidjan.
Our Identity
Ivorian Steel, Ivorian Success
KING IVOIRE is proud to be a 100% Ivorian success based in Abidjan. We are proud to have created Jobs for more than 2000 people – directly and indirectly, supporting more than 10,000 of their family members.
We also support the Ivorian economy by dealing with Ivory Coast-based vendors, including scrap suppliers and transporters. Many of our customers are referrals who hear about the great work we are doing in our country.
One of our strategic missions is to help Africa, especially Ivory Coast, industrialize and grow: we want African countries to start exporting more than they import.
Ivory Coast is a developing nation with a good growth rate. KING IVOIRE is playing its part in the Ivorian economic boom and also supplies products companies based in African countries such as Mali, Niger Burkina Faso and Ghana.
The Next Chapter: After Abidjan
We also are working with experts around the globe especially with India in order to develop an Indo-Ivorian partnership that will facilitate growth in Africa.
Stay in contact with us as we continue our mission: send us an email with any of your questions about how we can help you or partner with you.
Our Values
The Efficiency
Reliability
High Quality Work
Feasible Compliance Costs & Intervention Schedules
Customer Centric Culture
Our Strength
We provide industrial-use oxygen and high-quality steel materials for construction
We are ranked #1 in Cote D'Ivoire for manufacturer ranking in the MS Billets and Iron Rods.
Perfomance
Our efficient process helps us provide durable steel construction materials
Our process includes using high-tech machinery, detailed laboratory tests by our experts and hot roll production techniques.